When I was a kid, Dad being quite the
Francophile
, we always had a big Bastille Day celebration. Even as an adult, I have always fixed a special sort of festival dinner. Until 2004.
Since then, nothing special. No celebrations. Until France collective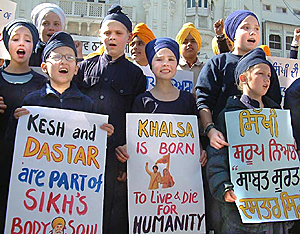 ly
comes to its senses and shows some respect toward its Sikh citizens and residents, I am boycotting all things French, including their holidays.
Our boys, and, one would suppose, our girls as well, if they wore a turban, are EXPELLED from school for wearing a
patka
, much less a full
dastaar
, I believe also that they are trying to make us remove our turbans for driver's license pictures, as well. They have gone mad!